Scales is a tense, claustrophobic drama that spends one evening with four characters, who are trapped in a combustable boiling pot of an apartment. American boxer, Darnell, his PR manager and girlfriend, Maria, Forbes-fallout Adam and drug dealer Keith are forced to question their relationships and loyalties, as sinister secrets come to the fore, threatening dangerous consequences.
Your upcoming movie Scales – in a few words, what is it about?
Joe Harvey – Scales is a claustrophobic thriller that spends one evening with four volatile characters in an apartment, with dark secrets coming to the fore and threatening to spoil the party.
How did the project fall together in the first place, and how did you all come on board? And what drew you to the project, actually?
Nathan Hannawin – I met Joe and Anthony on one of the online film sites, like a job site for the film industry. I saw they had a small ad for someone to direct a script at a reading and potentially lead onto further things. I don't think it actually mentioned Scales or what the film was about, and I later found out that was because they were playing their cards close to their chest, but I thought there was no harm in sending a message. We met up in person at the Curzon and we really got on well. By this point I had a copy of the script and had a chance to read it through a few times and thought it was really good. When we all met up, we just got on really well, and we all share the same energy and passion for the project.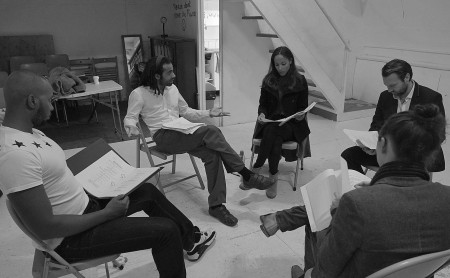 JH – After the success of our first collaboration, Sweetboy, Anthony and I were keen to hook up again. He dropped me a message one evening saying he wanted me to write a film about four characters (a boxer, his girlfriend and manager, an entrepreneur and a drug dealer) in a confined location, giving me free reign on what to do with these varied characters. This concept struck a chord with me and I immediately knew the direction I wanted to take the script in and how I wanted the narrative to play out.
Featured Image Photo Credit: Benny Bopper